Garage Door Spring Repair Virginia Beach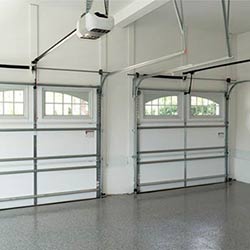 The mobile garage door specialists here on staff at Eagle Garage Door Co. keep current with technological developments in the garage door industry, so that we are able to carry the broadest selection of reputable products in Virginia Beach, Virginia.
Our garage door springs are coated with a clean, black protective finish to avert corrosion. Take a look at these recommendations:
torsion springs - Hands down, we're your torsion spring experts! Torsion springs are manufactured with oil-tempered wire to prevent corrosion further.
extension springs - Double-looped, open-looped, and with clipped ends, they are oil-tempered for optimum toughness.
roll-up door springs - For a roll-up garage door, our roll-up spring reigns supreme, making the least level of noise. Hard-drawn and oil-tempered, for long life.
CALL NOW! (757) 414-2296
If your garage door ever goes out of whack, unfortunately, you're probably going to need to repair your garage door spring. But there's no need to stress over it. Just hire the mobile garage door experts here on staff at Eagle Garage Door Co., and one of our professional garage door repair technicians will quickly assess the nature of your problem. Before you know it, we'll get your garage door spring repaired!
We apply advanced technology and skill to work safely. Whatever your garage door issue is, we will determine the right solution.
With our 24-hour call-back policy, we'll return immediately if anything else needs attention, and we'll put it all right!
CALL DAY OR NIGHT! (757) 414-2296