Garage Door Opener Repair Virginia Beach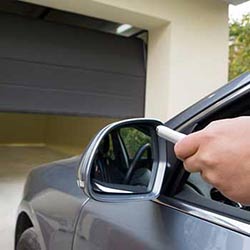 You'll want your garage door opener to be exactly right for your garage door, since it won't function properly otherwise.
The garage door openers available to you here at Eagle Garage Door Co. are remarkably quiet, sturdy, and dependable.
Eagle Garage Door Co. offers a wide selection of affordable peerless garage door opener services in Virginia Beach, Virginia. For sure, we'll handle your garage door problem quickly and professionally.
remote garage door opener services
CALL NOW! (757) 414-2296
We invite you to hire Eagle Garage Door Co. to repair your garage door opener, and you'll have the advantage of our professional guidance so you can make the right choices for your property:
electric-powered garage door openers - An electricity-powered garage door opener must be especially quiet if you desire exceptional quality. Simply put, you won't disturb others whenever your garage door opens.
remote-controlled garage door openers - Obviously, a remote control adds the convenience every driver wants, since you don't have to leave your vehicle. We'll make sure that your remote control code is utterly secure, so no one else but you can get inside your garage.
additional garage door opener features - We keep adding new beneficial features. One is the automatic courtesy light, which illuminates when the garage door opens. Another is the remote lock-out, good if you'll be away for a long period of time.
CALL TODAY! (757) 414-2296